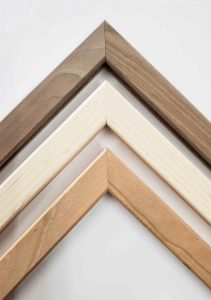 Since 1980, Northern Hardwood Frames has been offering U-shaped framing for the stained glass community.  It has become the industry standard. Quality was our first concern then, and it is now.
The shape is classically simple.  The glass should be the subject matter of the completed panel.
To provide you the highest quality we use only the finest wood. Each piece is hand inspected; only the straightest and most defect-free wood is used. This ensures that every piece is usable. If not, our wood is guaranteed, so let us know and we will replace it promptly.
Thank you for choosing Northern Hardwood Frames!