Make Your Own Stained Glass Frames
To make your own frames, cut the wood to size using the miter allowance.  The miter allowances for each size frame are listed below.  Add this amount to the size of your glass panel in order to calculate the length of the outside edge of your frame.  Mark the wood and cut the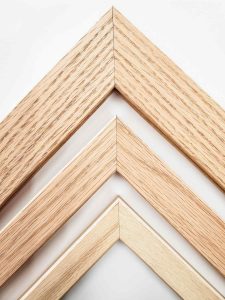 miter.
Narrow: Add 1-5/16″
Wide: Add 2-1/16″
Extra Wide: Add 3-5/16″
Glass groove sizes are available in two widths in the narrow and wide framing;  5/16" or 3/16".   The extra wide framing is only available in 5/16" width.  All grooves are 3/8" deep.
For solid, accurate corners, use our glue/screw technique.  Take the two sides and the bottom pieces and apply a quality yellow wood glue such as Titebond™ and clamp the pieces together.  After 15-20 minutes, the glue should be initially set up. You can then drill the screw holes and insert the screws, such as our Framing Screws.  Hint: Putting paste wax or bar soap on the threads makes all screws go in much easier.  Insert the panel and follow the same procedure for the top.
Hang the panel from the side pieces, not the top, using our Chain Hooks.  These prevent the wood from deforming over time, and it's almost impossible for the screws to pull out.  Use two equal lengths of Brass Safety Chain for hanging.