Cross Frames for Stained Glass and Mosaics
A long while back, years before I purchased the company, Northern Hardwood Framing made cross frames for folks.  Well, I decided to resurrect the idea (little pun there) and start offering them again.  I will come up with a few standard sizes, but am open to doing custom sizes as well.  As soon as I get a few prototypes together, I will start posting them in the shop where they will be available for purchase.  Here is one example of one cross frame done by the previous owner, the glass is by Jaentra Green Gardener in St.Paul MN.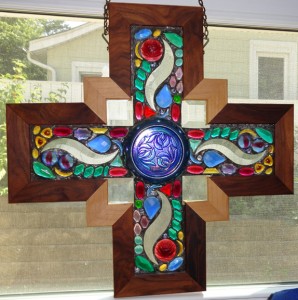 I will mostly be making them in Oak, since I have an abundance of short cuts that I would love to see used up.  Let me know if you have any interest in these and I will get working on it.
Thanks!
-Kate