Because I ship out the majority of our frames, I don't ever get to see finished stained glass pieces.  I really love it when I get to see what my customers are up to.  Especially when the finished piece has one of our frames around it.  There is so much fantastic creativity in every glass piece.  Here is a great photo sent to me from Laura Morin.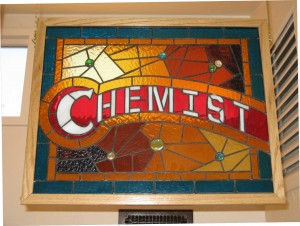 I love ol' tymey stained glass.  This piece is fantastic!
Like I said above, I love to see finished panels.  If you have bought a frame from us and would like to send me some shots, I would really appreciate it.  Also, let me know if I can post it.
-Kate