Since we moved to our new location, I finally get to have a proper sign outside. Here is the glass I designed and threw together with our logo.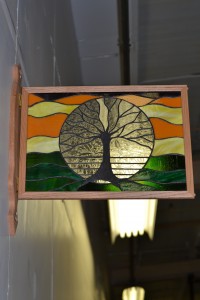 I put it on hinges so it can easily lay flat against the wall when my neighbors are moving large pallets around.
We are really enjoying the new shop location at the Thorp/CBC Building in NE Minneapolis.  It is only just across the street from our old location but a hundred times better traffic and work environment.
Stop by if you are in the neighborhood and check it out!  I always love company.
-Kate